I was prowling the Hinduism section at the Tattered Cover Colfax when I found this delightful new gem.
Published just last year (2010) by Chronicle Books, it is Ramayana: Divine Loophole, by Sanjay Patel. Every page of this retelling of the Indian epic is another visually arresting illustration by Patel, who works as an animator and storyboard artist for Pixar Animation Studios.
Patel, though the son of Hindu parents and surrounded by the characters and the story of The Ramayana as a kid, admits that it didn't really sink in or touch his life until he started researching his first book, The Little Book of Hindu Deities (another gem, by the way, this one aimed at children.) That experience spurred him to read a modern, 3000-page novelistic retelling of The Ramayana. Drawn deeply into the story, he began, for the first time in his life, to appreciate these beloved characters and the epic tale his parents so revered.
Lucky for us, he decided that his second book would be an illustrated version of the epic.
The Ramayana is one of two ancient Indian epics, and was first written down in the 5th to 4th centuries B.C. It tells the tale of great blue-skinned hero Rama, an avatar of the god Vishnu, and his battle against the ten-headed demon king Ravana, who has abducted Rama's beautiful wife, Sita. Ravana has run roughshod over the gods themselves, who foolishly promised him he could never be killed by either god or demon. But the "divine loophole" of Patel's title is the fact that the gods' promise said nothing about his vulnerability to humans or animals. Since Ravana might therefore be killed by a mortal, preserver god Vishnu decides to be reborn in human form. Enter Rama.
Hanuman wears the image of Rama in his heart.
Rama is assisted in his quest by the great bear chief Jambavan, the monkey king Sugriva, and most notably the white monkey (who has forgotten he is a) god, Hanuman. These animal chieftans bring along their entire families. A gigantic army of bears and monkeys gathers to battle against Ravana and his hosts of demons!
Ramayana: Divine Loophole is an excellent retelling of the main points of the epic. Patel's text is lively and succinct, but the real power, the beauty and joy and wit of this book is in its illustrations.
Far more than just an illustrated book, this is a work whose visual aspect engages, delights and astonishes on nearly every page. In addition to the text, each two-page spread displays a splash of color and a lively, kinetic design carrying the story forward. In large part, the book tells its story through its pictures, though the narration is good, too, with the punchy spirit of a childeren's book.
Sanjay Patel's work can be witty, exciting, intricate, and so spirited as to be at times cinematic. There are delightful moments in the book where specific incidents are narrated in the text and you find yourself hunting among an epic illustration with seemingly thousands of characters and details to find--finally!--that incident, now perfectly visible. Kind of a Where's Rama? experience.
That is how these colorful, well-composed pictures can seem cinematic. There is often much more going on than you see at first glance. Indeed, one of the joys of this book is that you can immerse yourself in these amazing pictures and travel deeper into them the more you look.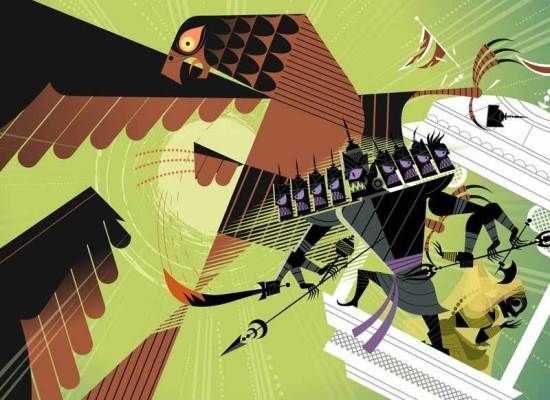 Battle between demon king Ravana and valiant eagle Jatayu
The moods of Patel's pictures are many. There is suitable nobility in the depictions of Rama, and great beauty when he is together with his wife, Sita. The hordes of demons that fill the book are truly hideous, at times really scary.
This is especially true of the depictions of ten-headed Ravana. All of those heads, snarling, leering, showing rows of jagged, knife-point teeth! There are fantastically aggressive and intricate battle scenes with hundreds of characters, the sky a bristling storm of arrows! One delightful two-page spread has scores of monkeys cavorting among the branches of an immense tree, while down below a host of their bear brethren gobble up proffered nuts and berries.
In exile in the forest, Sita comes upon a most unusual deer.
Ramayana: Divine Loophole is a spirited, worthy introduction to the epic for both adults and children. I might limit this to children who would not be overly disturbed by the hosts of horrifying demons or the bellicose scenes of decapitation of both good guys and baddies. But to me, the story is so well-told and the characters so inherently noble and worthy that I can see it becoming a kids' favorite, not despite but rather because of its more lurid aspects. Kids love that stuff.
Beloved monkey god Hanuman besieged by demons!


This is, in fact, my initiation to the wonders of the Ramayana, and I found it to be an exciting, compelling, and subtly witty one. Patel's text as well as his illustrations is always lively and direct and "modern," but with a deep respect and honor for the characters and tales of his source material, the epic.
As if retelling this monume

ntal tale wasn't enough, Patel devotes a full 40 pages following it to short descriptions and great illustrations of the story's major characters. Four sections depict Gods & Sages, Warriors, Animals, and Demons.
And following that are several more pages where Patel shows scores of his original sketch ideas for the characters and incidents in the story. In accompanying text, he takes us through his process of creation, emphasizing that "Sketching is just another way of thinking and another form of writing." The color drops away here, mostly, and we see his visual ideas evolve through hundreds of individual sketches arrayed on a pure white paper background. He ends his short explanation by exhorting prospective artists to think through obsessive sketching.
"Keep drawing," he says, "the art will reveal itself. It's inevitable; just trust the process."
The Battle of Lanka: Rama and army face off against the demon hordes.
The rest of us can be thankful that Sanjay Patel followed his own advice.